The fall just got a little more awesome! That's because Animals as Leaders are on their way back with new music and a late year tour as well. The band just announced that their new album, The Madness of Many, will be released by Sumerian Records on Nov. 11.
The band's fourth studio album is a 10-track offering self-produced by the band, with guitarist Javier Reyes handling mixing duties. Reyes says, "The Madness of Many is an explorative and ambitious journey of harmony, rhythm, musical expression and emotion. It has been the most collaborative effort for the band and an evolution in each of the members' musical path."
Fellow guitarist Tosin Abasi adds of the new disc, "This album feels like total synergy between the three of us. None of this music would have turned out the same way without the equal inclusion of all of our musical ideas and that feel special. We're beyond thrilled with the result." Drummer Matt Garstka added that he feels that "although conceptually dense, it is the most natural sounding Animals as Leaders album yet." The full track listing for the disc can be seen below.
As stated, Animals as Leaders will also be touring in support of the album. They start their trek on Nov. 10, the eve of the album release, in Scottsdale, Ariz. The five-week trek will also feature Intervals and Plini in the opening slots. See the stops below.
Animals as Leaders, The Madness of Many Track Listing
1. "Arithmophobia"
2. "Ectogenesis"
3. "Cognitive Contortions"
4. "Inner Assassins"
5. "Private Visions of the World"
6. "Backpfeifengesicht"
7. "Transcentience"
8. "The Glass Bridge"
9. "The Brain Dance"
10. "Aepirophobia"
Read More: Animals as Leaders Reveal 'The Madness of Many' Album + Tour |
http://loudwire.com/animals-as-leaders-the-madness-of-many-album-tour-details/?trackback=tsmclip



Messages

: 748


Date d'inscription

: 26/09/2014


Age

: 32






Messages

: 991


Date d'inscription

: 25/09/2014


Localisation

: 4-9 izi



Pas mal pas mal
Sinon, léger HS, mais je ne pouvais pas ne pas partager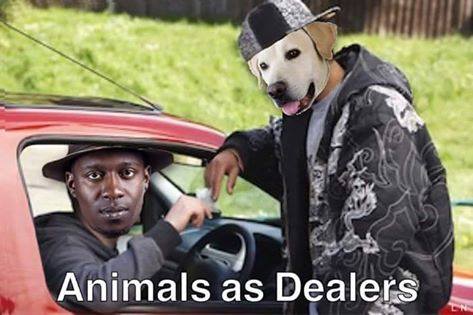 Messages

: 748


Date d'inscription

: 26/09/2014


Age

: 32



Je suis passé complétement à côté de ce disque.
Je l'ai écouté une première fois, en vrac, honteux de mon retard.
Une seconde fois, dans l'ordre, un peu plus sérieusement.
Mitaine (!) - La qualité dingue.
Mettre l'accent sur le côté plus doux et jazzy de leur musique est une excellente idée. En tout cas, la cassure est assez nette avec les morceaux les plus lourds du groupe, et punaise, c'est vraiment, vraiment bon. Les plans alambiqués ressortent encore plus qu'avant. Pas un morceau ne m'a épargné ce passage pendant lequel les yeux s'écarquillent et la respiration est suspendue.
Clairement, à creuser.
Clairement, à creuser.
Clairement, à creuser.
Wouah.


Oslow




Messages

: 2114


Date d'inscription

: 24/09/2014



---
Permission de ce forum:
Vous
ne pouvez pas
répondre aux sujets dans ce forum